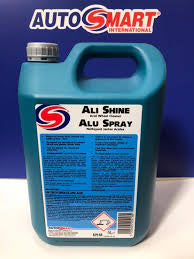 Autosmart Ali Shine 5 Litre 5L (Acid Wheel Cleaner - alloy plastic painted TRADE.
Autosmart Ali Shine - acid wheel cleaner
*PROFESSIONAL USE ONLY*
A strong acid wheel cleaner that can be sprayed onto wheels
can be used on all types of wheels including plastics, painted and alloys.
Rapidly removes brake dust and traffic grime
Ideal for lacquered & painted alloys and plastic wheel trims
Can be diluted
Biodegradable non-toxic formulation
Silicone Free
Instructions
For general or frequent cleaning, dilute 1:4.
Use stronger on heavier soiling.
Ensure wheel is not warm or hot.
Apply using a wheel brush or sprayer.
Allow to dwell for up to 5 minutes.
Do not allow to dry under any circumstances.
Rinse thoroughly with water.
for the use of Professional Car Valeters
*PROFESSIONAL USE ONLY*