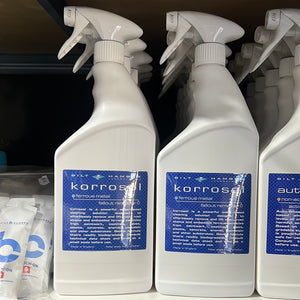 REMOVES METALLIC PARTICLES FROM AUTOMOTIVE PAINTWORK.
Metal particles released from brake pads become aerosolised and attach to wheels and bodywork. Consequently, when running your fingers over the bodywork there will be a bumpy feeling, whereas paintwork should feel as smooth as glass. In addition to these particles being unsightly, they bond with the paintwork and begin to form rust. As rust forms the particle expands, disrupting the lacquer and allowing moisture and dirt to contaminate paintwork underneath.
Korrosol safely and effectively removes these harmful particles. Rather than relying on harsh acids which fail to differentiate between contaminants and paintwork, Korrosol is a pH-controlled formulation which seeks out the contaminants and acts to release them from the paintwork. The colour change that occurs indicates the particles have been neutralised and can be washed away from the panel.
Features & Benefits:
Quickly & safely removes metal particles from paintwork
Spray on, wait for the colour change & rinse away
Non-alkaline, pH-controlled solution