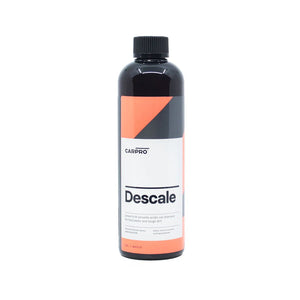 CARPRO Descale Acidic Soap is designed for maximum efficiency against tough dirt, hard water and all manner of nastiness. Designed from scratch and released for SEMA 2021!
It breaks down the built-up contamination that reduces gloss and clogs the surface of neglected paint and coatings. 
Like many other CARPRO products it can be used in full circle to remove waxes and sealants, prepare paint for polishing, degrease afterwards, as well as to remove traffic film and minerals on coated and non-coated vehicles during regular maintenance washes. 
When to Use Descale:
CQUARTZ coated vehicles that are subjected to hard water.

Ceramic coated vehicles that have lost hydrophobics or gloss.

Neglected vehicles.

A first step to a full detail.
When NOT to Use Descale:
If your car has a carnauba wax or polymer sealant and you do not want to re-wax or re-seal the vehicle.

As a regular weekly wash. For regular washes use CARPRO Reset instead!
How to Use:
Dilute 1:100 for bucket washing or 1:10 for foam sprayer/

spray bottle.

For light contamination: use Descale as a snow foam and 

allow for maximum dwell time (without letting it dry) before rinsing. Follow up with a hand wash. 

For heavier contamination: wash panel by panel starting with horizontal 

panels. Wash the panel and allow Descale to dwell for as long as possible 

without letting it dry.

Repeat if necessary.

Thoroughly rinse with water