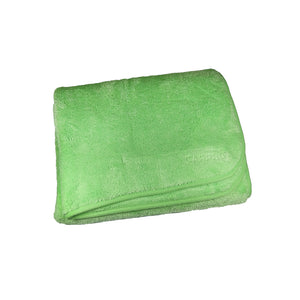 The largest Fat Boa from CARPRO; measuring a huge 70 x 80cm, this luxury near luminous lemon lime drying towel, perfect for absorbing and removing water from your paintwork. The CARPRO Fat Boa Microfibre towel features a circular knitted raised cloth. This creates the appearance, feel, and functionality of a 1200gsm cloth without the lint issues they can suffer from. It is in fact a 800gsm (gram square meter), double layered and importantly it gulps down water with ease. Based on the same ultra plush fibres as the ludicrously popular CARPRO Boa Buffing towel, the edging is silk sown so any risk of light scratches or marring is greatly reduced when running the towel over your paintwork.
Being the larger (almost Hulk!) sized of the Fat Boa towels, it's a direct premium competitor to detailing favourite the Wooly Mammoth - with the same water guzzling drying ability as the Chemical Guys towel.
The CARPRO Fat Boa, is light enough that it doesn't get too heavy or become a pain to fold, yet also strong enough to take large masses of water off painted surfaces safely and efficiently. The Fat Boa is beautifully finished with an embossed CARPRO logo on the bottom right side of the towel, a mark of class.