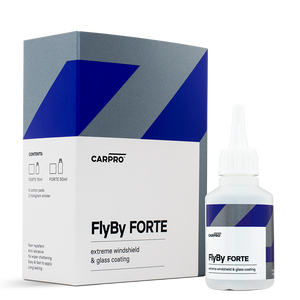 FlyBy Forte is a brand new technologically advanced windshield coating. Development of Flyby Forte was heavily based on the latest and most advanced mobile phone anti-scratch protection. Our inorganic Nano-tech coating was specifically designed for EXTREME semi-permanent durability and long-term resistance to abrasion and chemicals.
Flyby Forte was tested to over 40,000 real time wiper cleaning cycles, is UV stable, highly chemical resistant, and provides resistance to scratches and minor chips.
Flyby Forte is the ULTIMATE in windscreen and glass coatings!
Unlike traditional glass coatings, which attach to the surface, Forte fully bonds by penetrating the top surface of glass, merging and transforming it into a hydrophobic smooth surface.
Flyby Forte does not allow chattering, wiper noise, or degradation of the glass. Rain droplets slide off fast at speeds beyond 30mph for a minimum of 6 months. Expected durability is up to 2 years.
Enhance your safety and superior vision in bad weather - Use Flyby Forte!
Specifications:
Initial contact Angle (DIN EN 828) : 115 Degrees

Water drop sliding angle:

Extreme abrasion resistance

No wiper judder or noise


Repels water, dirt, dust, salt, ice, and snow

Easy to apply

Long lasting durable protection

Harsh chemicals resistant (from 4~12 pH)

Improves night vision

Suitable for any glass type: Auto, Marine, Aviation, and more
Directions:
Note: Avoid applying over rubber trim or to the paint. If product contacts paint or rubber wipe off with wet mf towel immediately.
Always wear the correct safety equipment when using professional grade products, we would recommend minimum of nitrile gloves.
1) Polish the glass with CarPro Ceriglass, preferable by machine polisher, or polish very well by hand rayon block.

2) Clean surface free of oils with CarPro Eraser.
3) Pour a few drops over the supplied cotton pad
4) Apply in circular motion all over the glass and do not wipe off
5) Repeat steps 3 and 4
6) Using the same applicator (but no additional Forte) once again repeat step 4 buffing the FORTE in until the surface is dry and 100% transparent and clear.
7) After entire windshield is coated, apply Flyby Forte to the Wiper blades and leave wipers off of the glass for at least 10 minutes.
8) For side windows only 1 layer is needed. Apply as above without repeating steps 3&4

9) Keep surface dry for 4 hours with no wiper blades for 24 hours.
Note:
FlyBy Forte may be layered further at your discretion for increased thickness and durability.
CarPro UK Tips:
Preperation of the glass is vital to performance and bonding of FORTE. We recommend cleaning the glass with strong APC, followed by Iron X and if sap, bugs or tar are present Tar X should also be used.
Dry glass before polishing to minimise product sling, or cover adjacent paintwork with microfibre towels or bodyshop plastic sheeting if machine polishing the glass.
Using low tack masking tape to cover any window rubbers and surrounding paint.
Thoroughly polish the window using Ceriglass and a rayon block or pad, a machine polisher is preferable at this stage as it's quicker than hand polishing to get the same result.
Once the glass is perfectly clean and smooth, clean the surface well with CarPro Eraser and clean microfibre or terry towels. Ensuring the glass is fully dry before applying forte as per above instructions.
Maintenance:
If Forte beading begins to slow, clean surface well with Eraser and IronX/TarX if required. This may be needed every 2-3 months.