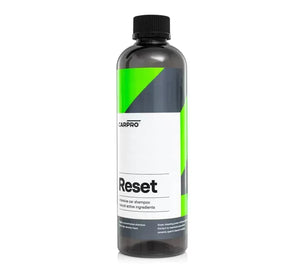 CarPro Reset Shampoo is a car shampoo designed specifically to maintain Ceramic Sealants, by removing the dirt whilst not effecting the coating itself. CarPro Reset was formulated specifically for nano-technology based sealants and coatings, with cleaning properties tailored to their unique needs. Utilising Intelligent pH surfactants, CarPro Reset breaks down road grime and traffic films with the power of an alkaline cleaner, whilst being as gentle on the surface as a pH-neutral shampoo.
CarPro Reset quickly rinses free from the surface, leaving behind no soap residues or interfering silicones, restoring the beading and dirt releasing properties (The 'Hydrophobic Effect') of the surface to help maintain its protection. Combined with excellent lubrication, a strong foaming action for improved dirt suspension, and a high dilution ratio, this makes for a highly effective and economical wash.
At the same time, Reset is almost entirely based upon naturally occurring, organic ingredients, making it as safe for the environment and for the user as it is for the vehicle. If dirt is hiding the beauty of your car or motorcycle, then you know that it is time for a Reset!