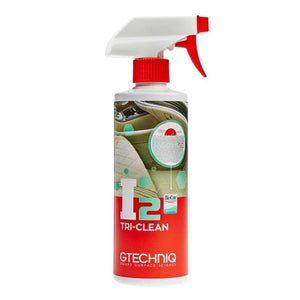 Gtechniq I2 Tri-Clean
MULTI SURFACE INTERIOR CLEANER WITH ANTI BACTERIAL PROPERTIES
Gtechniq I2 Tri-Clean is an all surface interior detailing product that cleans, kills99.9% of bacteria and absorbs odours. I2 contains a true odour absorber, not an odour mask which leave tacky residues and attract dirt and grime.
Gtechniq I2 was developed in conjunction with BioCote, the global leader in antibacterial and antimicrobial technology. I2 ensures surfaces remain hygienic and fresh by reducing the number of microbes.
I2 can be used on all interior surfaces including leather seats, dash, door cards, carpets and upholstery.
Powerful pH neutral Interior Cleaner
true Odour Absorber
Kills 99.9% of Bacteria
Can be used on Leather, Plastics, Carpets and Upholstery
How to use Gtechniq I2 Tri-Clean
Spray Gtechniq I2 on to a clean Microfibre and on to the surface that needs cleaning.
Work in to the surface until it's clean.