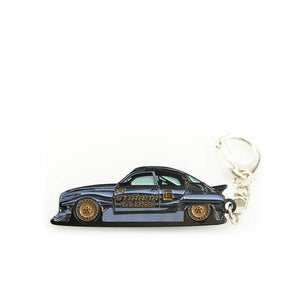 Diecast enamel Saab 96 Widebody keychain.
Ever since our Saab 96 Widebody show car broke cover, it's been the talk of the scene. An original 1970s Saab 96 with a custom wide arch kit, air suspension and modern 2.0 Turbo Saab engine kicking out almost 400bhp.
Of course, you can't buy our one-off Saab, but you can buy this enamel metal keyring. Size is 20mmx65mm - on a sprung clasp and ready to hang from your car keys, lanyard or luggage zip.  
Made from diecast steel and enamel. 'Björn to Detail' with umlaut tree logo stamped on the black painted reverse.